Snake Saturday Parade is a time to show off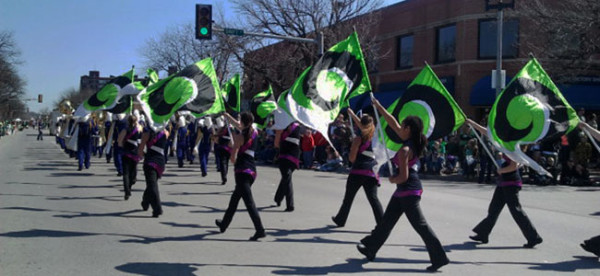 Katie Golovenkova
April 9, 2012
This year the traditional Snake Saturday Parade in North Kansas City took place on March 10, the Saturday before Saint Patrick's Day.
The parade started at 14th street and Swift, traveled through Armour, Howell Street, and ended at 18th street. The whole route was almost a mile.
Many nonprofit organizations, companies, clubs, and high schools took part in it. This year there were about 170 floats. It became the record year in the amount of participants.
The annual celebration has been a tradition for 28 years, but not everyone is aware of the origins and history of how the parade was evolved.
The Snake Saturday Parade was named after the legend about St. Patrick, who had driven the snakes out of Ireland in the fifth century.
The parade started in 1983 as a promotion for Rodeway Inn and consisted of four floats and a Grand Marshall.
The first parade winner was a young lady in a green bikini who rode on the back of a Harley Davidson motorcycle.
The outside procession was originally held indoors in the motel parking lot because of very low temperature and bad weather conditions on that day.
The event had such a great success that North Kansas City's mayor offered to "take it to the street next year."
Thereafter it became an annual parade that takes place in Northtown regardless of the weather conditions and always on the Saturday preceding St. Patrick 's Day.
The Parade Founder, Mickey Finn, remembers the explosion of this event that was greeted by all generations. Later, he came to the idea of inviting non-profit organizations to build floats and compete for the prize money.
"Our goal has been to not make a lot of money on the parade, but to generate funds to share with our local non-profits," explains Finn.
NKCHS Theatre Association and marching band also took part in the parade.
"The Snake Saturday Parade was exciting. Crowds of people came out to celebrate and show their spirit. It was fun," said junior Dolly Nguyen.
Northtown's Theatre Association did a good job in showing the school spirit by winning the second place and $500 award in The Best Spirit nomination.
"That's our forth year in taking part in this parade. We are very excited that we have won. This money we are going to spend on the equipment for shows," said the NKCHS Theatre leader, Randy Jackson.
The Snake Saturday Parade has become one of the most exciting and favorite parades in Northtown.
This family oriented celebration is always accompanied by amazingly decorated floats, high school marching bands, volunteers and just dedicated people, police and fire departments, the flourish of festival, and immersion of greenery.
It's a great chance to spend time with your family and friends watching the amazing parade and taking part in the Snake Saturday Festival.