Girls Tennis Opening Match Recap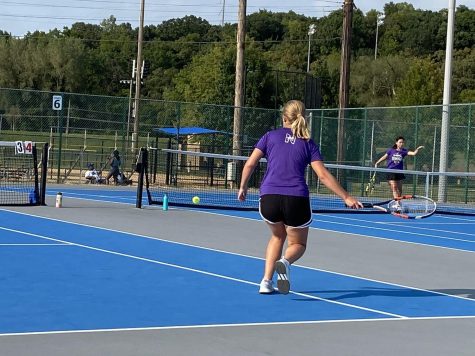 Lady Hornets Tennis opened the season with a slam on Monday, August 30th. The match was against Winnetonka Highschool, close rivals within the NKC school district. After many thrilling matches, Northtown swept Tonka- Varsity and JV both going 9-0, without a single loss.
Sydney Fuger, ranked varsity one, says, "We played really well. I was super nervous before the match, but my doubles partner Lilly calmed me down and got me going. The team played amazing, and I am looking forward for what's to come." Sydney Fuger is a freshman at Northtown, but not new to the tennis stage. She won both her singles match and doubles match by a landslide.
Esther Ko ranked varsity 4, comments on the team's chemistry, "The girls did a really great job… I saw a lot of great sportsmanship, so it was nice to see. The girls really hyped up for the game," Lilly Gerend, varsity 6, says, "I feel like the team dynamic is really awesome, like doing team chants and being encouraging and supportive of each other despite what level they are, I feel really contributed to the win." Great sportsmanship is embodied in the Northtown tennis team.
Northtown girls' tennis next match is Wednesday, September 8 at Macken Park. Come support our lady hornets!