NKC Ladies Flag Grounds Falcons
"This is history. You are making history" said Angellica Grayson, Head Coach of the St. Mary's Spires flag football program said. 
And that they did. 80 girls, a quarter from North Kansas City, took the field in the brand new, and never done before, flag football league. The league was a sponsored effort between Nike and the Chiefs, each pledging a total north of 5 million to the cause. 
After 6 weeks of practice, and a Friday night jamboree, the brand new Lady Hornets took the field for their one and only scheduled game. Against the bitter rival Staley Falcons.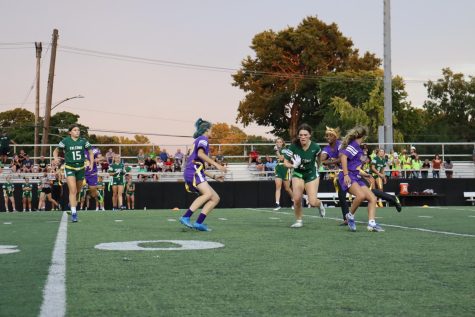 The rules are simple. Teams start on offense at the 40-yard line, and have 4 attempts to reach the 20, and if and when they reach, have 4 more attempts at the end zone. Games are 2, 20 minute halves. 
A stout Hornet defense stifled the Falcons opening drive, leading to a stall of their own, inside the 20. The two teams would trade small pickups, and eventual drive stalls. That until Staley found the endzone on a big 34-yard scamper by the Falcons Jenna Bahm. 
That drive woke the Hornet offense, who drove inside the Falcon 5, but were stopped at the goal line, when junior quarterback Abrar Abdelraham found wideout Ariana Perez just shy of the 1 yard line. Thus, the Hornets entered the second half down 6-0. 
In the second half, the Hornets finished what they started, as Abdelraham found Lanicia Parker on back-to-back-to-back plays, and the standout sophomore showed flashes of her father (former Chiefs receiver Samie Parker) as she climbed the ladder and fought off a Falcon defender to even the score. 
The Hornet defense held firm, and made play after play to stifle a well-rounded Falcon attack. After finding the endzone once again, the Hornets buckled down to end the game 13-7. 
After the game, Head Coach Bubba Dotson gave all the credit to Assistant Coach Jessica Thomas, as she took the reigns as Dotson stepped away to care for his new baby (congratulations, Coach!). "She drew up the plays, and she did a great job. She's the real offensive coordinator" Dotson said.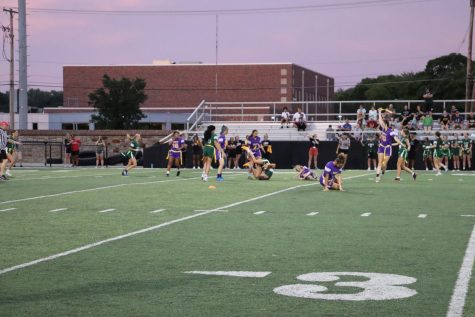 "We didn't know what to expect," Dotson said. "But the energy tonight from both teams, the players, the coaches, and the fans tonight was awesome. It really gives me a good insight of what the future in the sport can be."
It's hard to argue the success or failure of the Chiefs initiative, as the outpouring of community support, as well as the effort and dedication by the players and coaches told the ultimate story. After that Thursday night, girls flag football is here to stay. That much is true.