Marching Band Has Gold To The Ceiling
This year the marching band rolled out with a new halftime show called "Chroma". With the songs in order as followed, "Welcome to the Black Parade", "Mr. Blue Sky", "White Rabbit", "Purple Haze", "Gold on the Ceiling", and "Somewhere Over the Rainbow". With drum majors Andres Rodriguez-Dominguez, Victoria Waggoner, and Mary Gerend.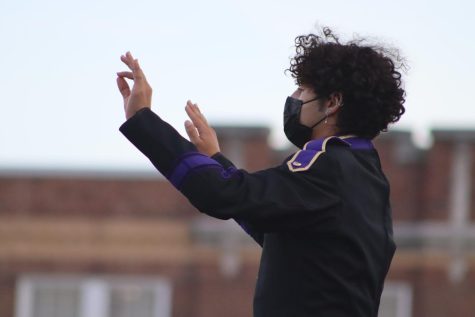 Their new show won 1st place in the "MO West Competition", at Missouri Western State University on oct 11. They competed against 19 other schools. With a lot of amazing things happening recently for them, we wanted to get a deeper look into preparing for competitions. So, we interviewed Mrs. Epperson, the band director, and asked her a couple of questions to get a better understanding of what it's like.
Preparing for band competition season is a long practice, Mrs. Epperson says, "Generally we practice during the hour (3rd block). We also have two weeks in the summer for band camp, so that's where we learn a lot of how to march and play at the same time, as the drum line spends another two following weeks working on that."

When it comes awaited competition days, drum major, Victoria Waggoner, says "it's a lot of relying on the band, so a really big thing for a drum major to kind of like prepare is knowing your conducting patterns and kind of like being able to sing stuff in your head. Like I sing the solos in my head before I can count off something. You also must make sure your soloists and your performers are ready, it's not just as simple as waving your arms around and then everyone falls into place, you really must make sure everyone is ready. For me it was that I knew my conducting patterns and a lot of hand dependency, so moving one hand while conducting with the other. Just being sure I knew my stuff before I got on that podium really helped me be into the band."
The marching bands new show is called "Chroma," Mrs. Epperson gave insight on how they came up their theme, "I wish we could say there's like an art or science to it but it's not, though every year there's something that will just come about and inspire me to do a show and this year I was just looking for music that I've wanted to listen to for a while, I was trying to find music that I thought would be fun and then looking at music to tie into each other and so that's where I came up with the color idea and just found songs with the color in the title."
Mary Gerend, drum major particularly enjoys the piece, "I absolutely love Chroma. I mean, your senior year show is always special, but Chroma really is something else. We have this part called "the groove" where everyone dances in the last song, 99 red balloons. And everyone goes crazy, the band, the crowd, it's unbelievable fun."
After winning 1st at "MO West Competition", Mrs. Epperson says, "I think more than anything, that it was really nice to see the students hard work was rewarded and the competition before that one we didn't do as well, and I think that you can use that as either a setback or room to grow. And I think this band used all those comments and the things that they learned from the first competition as room to grow and they grew. They definitely got better. So, I think it's important that as we go through this throughout the entire year, that it's okay to have a setback but you can always push forward and keep going and that's the definition of this band for sure."