Scholar Bowl Success: Varsity Team Qualifies for Nationals…Twice!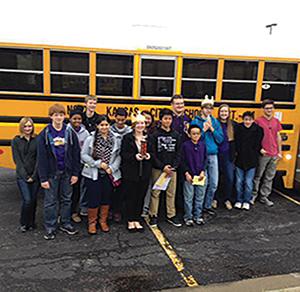 Advertisement
Hang on for a minute...we're trying to find some more stories you might like.
Here at Northtown, there are many different ways to get involved in school activities. Whether its sports or fine arts, almost everybody participates in something. One way to get involved is academically. One academic activity students can participate in is the scholar bowl.
"Scholar bowl is a group of students that answer questions that are fairly difficult, especially in the way they are worded," Explained varsity junior Brooklynn Wall, who has been a part of the scholar bowl team since the end of her freshman year.
In October, the varsity team went 3 and 1 to qualify for the Pace Nationals. This will be the tenth year in a row that Northtown has qualified for Nationals. The varsity team was made up of seniors Cameron Minor, Alex Niederberger, junior Peyton Galloway, and sophomores Josh Neudorf and Ian Thomas. The top four teams of the tournament qualified for Nationals.
"We go every year," said Varsity junior Peyton Galloway. "Last year we placed 77, I think."
At the same tournament, JV took first place. The JV team consisted of Sophomores Connor … and Kozhen Zahla, and freshmen Hanna Reynolds, … …, and Viet Nguyen. The JV team is usually made up of freshmen and sophomores joining Scholar Bowl for the first time. The two teams go to tournaments together, though in different divisions.
The varsity team at Fort Osage went undefeated and qualified for another nationals competition. The varsity team was made up of Senior Lorenzo Moretelli, Juniors Peyton Galloway and Brooklynn Wall, and sophomores Josh Neudorf, Ian Thomas, and Ben Rohrs. Senior Lorenzo Moretelli won first place overall in points at the Fort Osage Tournament by scoring more than anyone else in the tournament.
"The best part about [Scholar Bowl] is that I get to hangout with a lot of incredibly smart people and take lots of trips to different schools," said Galloway, who participated on both the JV and varsity teams the previous year.
So far this year, the varsity scholar bowl team has won first place twice, second place once, and fourth place at various tournaments. In order to prepare for tournaments, the students practice for about two hours, two or three days a week.
"We go through packets that are on the national level and sometimes we have presentations on topics that come up." Said Wall.
So far this year, the varsity scholar bowl has qualified for national competitions twice. The competition in Washington D.C. is a set of competitions taking place over the course of three days. The top 200 teams in the country get to attend.
"My favorite thing about Scholar bowl has to be hanging out with studets who are exceptionally bright and getting to bond with them," said Wall. "I never knew some people were so funny."