Northtown's Fine Arts Department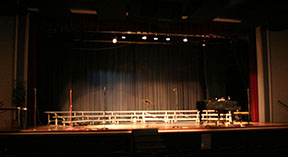 Here at Northtown, we are known for our diversity, correct? And not referring to the student body, but the extracurricular activities offered here at Northtown. More specifically, the activities that relate to the fine arts department.
The four amazing fine arts branches we have here at Northtown are theatre, orchestra, band, and last but definitely not least, choir. The directors are; Randy Jackson for Theatre, Barbara Miller for Orchestra, Carrie Epperson for Band, and Mike Shirley for Choir.
First up is Mr. Jackson, the theatre director. Mr. Jackson has been teaching here at NKC for 17 years. He teaches Theatre 1, 2, 3, 4, and a stage crafting class. He also works the International Baccalaureate curriculum in there as well. Mr. Jackson is mostly proud of all the productions from this school year (Drowsy Chaperone, One Man Acts, Godspell, and Mousetrap) and his seniors. Many of his seniors were offered full scholarships for theatre.
Next on the list is Mrs. Miller, the orchestra director. Mrs. Miller has been teaching at Northtown for 11 years. She teaches two orchestras; Chamber orchestra, which is mainly made of freshmen and Hornet orchestra, which is comprised of sophomores, juniors and seniors. Mrs. Miller is proud of well both of the orchestras did at state large and small ensembles.
Ms. Epperson is the band director, and has been the band director here at NKC for 5 years (this year being her 6th). She instructs Concert Band, Symphonic Band, Wind Ensemble, Jazz Band, Pep Band, Drumline, Marching Band, and the Fall Pit Orchestra. Ms. Epperson claims that the band students representing NKC at Pearl Harbor was the highlight of her year. "Being able to represent NKC in Hawaii at Pearl Harbor was an amazing moment," said Epperson "that I will never forget."
Mr. Shirley, the choir director, has been teaching here at Northtown for 13 years. Mr. Shirley teaches seven different choirs, Acapella, Harmonaires, Chamber, Men's, Freshmen, Treble, and Sensations. Mr. Shirley believes this year marks an important milestone for NKC's choir program. This school year alone, choir students from Northtown were awarded 500 individual choir awards from Missouri State High School Activities Association (MSHAA).
Senior Sean Brown has been participating in both band and orchestra all throughout her high school life.
"I absolutely love the Fine Arts department here at Northtown. It's a huge part of my life," said Brown. "School would probably be miserable without it."
At Northtown, we have an amazing fine arts department and it's a shame that a good chunk of Northtown's population is not taking advantage of it.
"People should get involved in the Fine Arts program because you get to meet a lot more people than in a normal classroom," said Amelia Fee, a sophomore at Northtown. "I also feel that Fine Arts can increase your performance academically wise."