Black Veil Brides Rock Out in Kansas City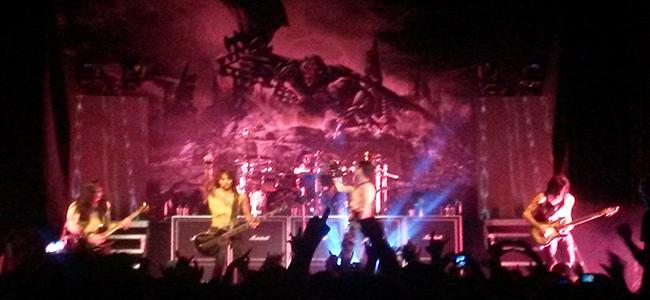 On November 12, the Uptown Theater was teeming with heavy guitar solos, banging drums and rocking vocals as The Black Mass tour, sponsored by Hot Topic, made its stop in Kansas City. The Black Mass tour is rock band Black Veil Bride`s worldwide headline tour for their new album, Black Veil Brides IV. The North American leg of the tour is opened by electro shock pop duo Drama Club, pop punk band Set It Off, and post-hardcore band Falling In Reverse.
Drama Club is a two-piece group made up of twins with the stage names Zero and Andromeda. The duo performed remixes of songs by Bring Me The Horizon and Black Veil Brides` Andy Biersack, as well as performing their own single Halloween 365.
Set It Off is a pop punk band formed in Tampa, Florida. The band was started by lead vocalist Cody Carson and gained a following through his youtube channel, rockmaniac89. After releasing a string of successful EP`s (extended plays), the band was signed by Equal Vision Records. Set It Off is primarily a touring band, meaning most of their year is spent travelling and performing in order to reach out to more people through their music.
Falling in Reverse is a post hardcore band formed by former Escape the Fate lead singer Ronnie Radke. The band also includes lead guitarist Jacky Vincent, drummer Ryan Seaman, and Derek Jones on rhythm guitar. The band has released two studio albums, the second released in 2013. The band is currently working on its third album. At the concert, the band played songs from both albums, and played two songs released by Ronnie during his time in Escape the Fate.
The headliner, and definitely the stars of the show, was Hollywood based rock band Black Veil Brides. Andy Biersack founded the band and is the only founding member that is still a part of Black Veil Brides. Ashley Purdy joined as the bassist and was soon followed by Jeremy "Jinxx" Ferguson on guitar, Jake Pitts on lead guitar, and Christian "CC" Coma on percussion.  Jinxx also adds an extra unique touch to the band`s sound by playing violin, both on the album and at the concert. Black Veil Brides performed a mixture of songs from all four of their albums, making it easy for all the fans, new and old, to enjoy and sing along.