Tennis boys start practices, new season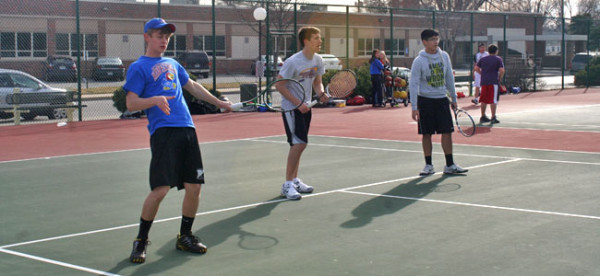 Katie Golovenkova
March 5, 2012
The new boys' tennis team is already formed, and now players practice diligently to get in shape and be fully prepared for the new season and new victories.
Although the practices have started recently, all the players have been attending training for almost a month. They were very active, practiced hard, and did lots of running and foot exercises.
"They became more explosive, quicker," said Coach Daniel Berkland.
This season there are approximately 40 boys on the team. Nevertheless, both coaches find time for each of them, helping develop their play, giving advice on how to improve their tactics, and cheering them up, if something doesn't come off well at first.
"Coaches are very supportive; they give constructive criticism, help improve your game," said junior Michael West.
To be on the team, the players had to comply with the requirements: have grades no lower than "C", have no behavior issues, and just be ready to work hard.
"Experience will help, but it's not the requirement! We'll work with you, even if you have never played tennis before," said Coach Lacy.
Along with the new season, a large amount of new players joined the team.
"We are a very extraordinary team. Half of it is seniors who already have extensive experience," said one of the team captains, senior Alija Omerovic.
Building a strong young group that will inherit skills and leadership qualities from the senior group of players is one of the main coaches' goals.
The varsity team is ready to take a significant part in realizing these goals, as well.
"As one of the captains, I will give my knowledge to younger kids and help develop their skills", said Omerovic.
Both the coaches and the players have their own expectations for this season.
"I have high expectations for the Varsity team, who already know a lot. Realistically we hope to win at least 12 matches and Varsity conference," said Lacy.
As for JV and Novice teams, both coaches want them to improve, work hard, and get better with every practice and every match.
"We don't set big goals for them as long as they get better," said Berkland.
Coach Lucy also instructs the younger players: "Work hard, stay focused, and remember – improvement is the biggest thing."
Players are looking forward to first matches and first wins that will hopefully turn into one of the most successful seasons. They are determined to be the best.
"Tennis is a team sport, but it also focuses on you. Your play affects team results. You just can't lose," said Omerovic.