MiniNotes return for second year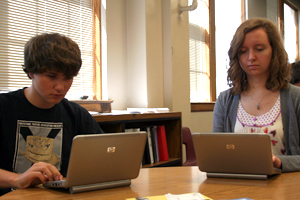 The student body was first introduced to the miniNote computers last year and now they are back again with some new changes.
There are mixed opinions about the miniNotes among both the teachers and students.
"I think that they are pretty useful and even though I complained about them last year, I went a whole summer without it and it's made me appreciate the miniNotes more," senior Deborah Christensen said.
However, junior Andrea Bannick is not really sure why we even have them and finds them useless.
"All I'm able to do with them is type up assignments and last year I only did that in one class," Bannick said.
This year's plan though is to incorporate the miniNote computers into all the student's classes at least twice a week. The controversy though is whether or not that will be easy for every teacher to do.
"It can be difficult, especially in theater because we do a lot of visual and active activities, but we can still use blackboard for sharing information between the students. Plus, miniNotes are always good for research," theater teacher Randy Jackson said.
Teachers are taking a seminar for technology training to help them with ideas for including the technology into the classroom.
There is also a question to how the students handled the miniNotes last year. Illegal content was found quite often on all the computers including games, movies and music.
The technology office is not too worried because they have a plan to stop some of this.
This year, the shared file is no longer available unless specific classes require it, which means it'll be a lot harder for games to travel to all the students.
But if it is not content on the computers that the technology department needs to worry about, then it's the technical issues.
Each of the miniNote computers are worth $420 and the cost of damages can range anywhere from $75 to $266.
"Actually, the main problem or damage we had last year, was the battery clip that would break very easily if the battery was pulled out too fast. However, this was a design flaw and none of the students were charged to fix it but to prevent that, students are not allowed to take the battery out by themselves anymore," technology department head Angela Kerr said.
Another reoccurring problem was that the computer cases were often too tight and when students tried to remove their miniNotes and accidentally pulled too hard, the screen would crack.
"We don't want to charge students for accidents though," Kerr said.
The students should not bring the miniNotes to Best Buy, instead the tech office is willing to help students if they have any questions or trouble.
Students can also visit the tech office to pick up the new accessories that are available such as the carrying strap and the compartment for the computer's charger.
Each item is $6 unless you buy them together and then it is only $10.
In the end, the miniNotes have become a new resource in schools and hopefully students will use them to their full ability, as well as teachers being comfortable with adapting them into their lesson plan.
"I honestly think that this is where our society is going," Kerr said.