Gift of giving: Angel Tree provides gifts to community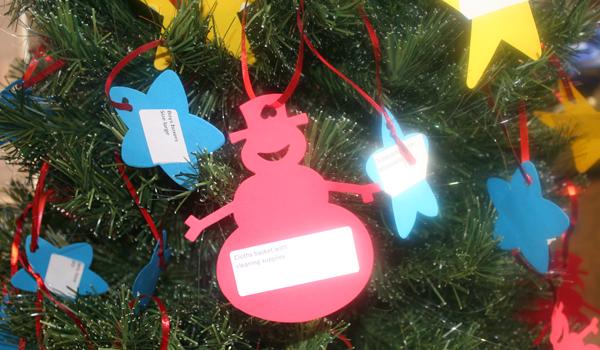 The library's Angel Tree program and leadership's Adopt a Family are two programs that allow students to get involved in their community and give those less fortunate a wonderful holiday.
"I have always had a passion to help, and this allows public patrons and students to work together for the better of the community," librarian Elizabeth Maurin said.
The Angel Tree program, introduced to North Kansas City Library four years ago, is set up on the first floor of the library and provides ornaments with descriptions of families needs and sizes for clothing.
This year, the library had adopted three families all from the North Kansas City area, and within these families are eight children, ages 1-15.
Any one, student or public patron, can go to the library and pick up an ornament, purchase items needed, and then drop off the present and bring back the ornament to the library by Dec. 17.
"I think a lot of them [students] gain an understanding and realization that not everything is rosy, people do need help and it also feels good to help," Maurin said.
In order to help the Angel Tree Program, Theory of Knowledge classes are joining together to raise money for presents for the children, competition style.
"I think it's a great idea because it gives us motivation to donate and regardless of who wins, we're making two kids super happy," senior Robert Noland said.
The important thing is that everyone pitches in so that all of the families are taken care of and will be able to have a good holiday.
"Never have we had a family gone without," Maurin said.
In addition to the Angel Tree Program, there are other ways students can donate, such as the Adopt a Family program ran by the leadership class.
Many of the students in leadership go around carrying a small container asking for others to donate change, something simple but it tends to raise a lot of money.
"I think they'll raise more this year because we're farther in the game than last year," leadership teacher Randy Jackson said.
So far, leadership has raised around $800 and their goal is close to $1200, a goal that could make a difference to many families this winter.
"It is a great way for our school to show our support for the community and it's so easy to do," senior Erin Nyquist said.
Angel Tree and Adopt a family provide opportunities for students to get out and help others less fortunate this holiday, even if it is just donating a little change.
"It's providing Christmas for those who can't," said Maurin.