Musicians succeed at All-district competition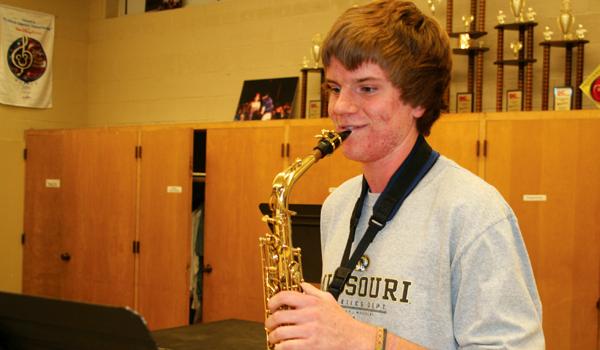 Band and orchestra students arrived back from All-district auditions on Saturday, Nov. 6, with stunning results.
Eleven students who auditioned for the All-district band and eight talented players made it in,allowing them to audition for All-state band.
This was a big improvement from last year, when only three students made it.
"This is a very difficult band to make and these folks did it all on their own," band director, Carrie Epperson wrote.
Not only did the students make the All-district band but they also placed well, especially junior alto sax player, Sam Riley who received first chair in both All-district band and the All-district blue jazz band.
"I was definitely surprised, I thought it was a bad audition because I had made stupid mistakes I normally didn't make," Riley said.
He beat out the competition anyway, and so did many others.
Lori Barnes, sophomore flute player, made first chair honorable mention band.
"The experience is great because you get to play in a bigger band and learn how to work under different directors," Barnes said.
Band was not the only one to have students show off their skills, but orchestra also did well at All-districts.
They had six members make all-district auditions, including junior violinist, Andrea Johnson.
"There is always uncertainty, and nerves are universal to any audition, but I felt pretty good about getting in. It was about doing my best to get the highest chair I could," Johnson said.
Senior viola player, Ethan Kuba agreed, saying that he kept his eye on the prize, first chair.
"In retrospect, it was a really ambitious goal and I'm just glad that I am able to audition for state," Kuba said.
And they all did well, but now, for both band and orchestra students, they are focusing on All-state auditions, and that is the goal, Johnson said.
Most of the students, in both band and orchestra, have been playing for about three-five years, and placing well in these auditions proves to be worth all the practice.
"On average I practice an hour a day, and since sixth grade, I've definitely improved a lot," Riley said.
All-state auditions were held on Saturday Dec. 4, where all of those who made districts did their best to make state as well.
The competition was the best of the best. It could all come down to who is having the better day.
"I think I can make it if I've had a good day. It depends on who is in a better mood, who ate a good breakfast, and also if you are able to mentally push aside the magnitude of people who are playing, and showing off," Johnson said.
Two band members had expectional results at the state level on Dec. 4.
Riley recieved fifth chair as an alto sax in the All-State Band.
Audrey Kubayko, senior, recieved seventh chair honorable mention for flute. She was 18th overall out of about 300 flue players who auditioned.