Royalty honors go to three seniors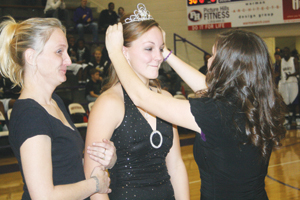 On Friday, Jan. 21, Courtwarming queen and king, Ashly Stevenson and Tyler Earle, were announced to the student body, with an enthusiastic response from their peers.
The Courtwarming candidates included seniors Nicholle New and Andrew Matheney, Starr Santee and O.T. Watts, Ja'Kyra Shelton and Daren Woodward, as well as Nina Pinkney and Spencer Warman.
The royal king and queen have a lot to show for their athletic career. Stevenson has been in basketball for four years, volleyball for one year, and track for four years, lettering three times.
Earle has been in basketball for four years, lettering twice, and was in track for one year.
All of the candidates have amazing records as well, most of them playing for just as long, and lettering just as much.
However, in the end, the team votes for who they believe should become the Courtwarming queen and king, and it is not just based on friendship.
"Overall, it has to do with your attitude," Earle said.
Earle and Stevenson walked away with the title of king and queen.
"It wasn't as nervewracking as I thought. It was a good memory," Stevenson said.
The winter sports assembly also honored senior invitational princesses Jazmyn Holt, Caitlyn Murphy, and Priscilla Pok.
Pok was named invitational queen.
"It felt good. I've been wrestling manager for four years, and I do a lot, and put a lot of time into the team," Pok said.
Not only did Pok manage wrestling for four years, but she lettered two times for managing, earning her the title she now bears.
Courtwarming turned out to be a great experience for all candidates, and will be a memory they will always cherish.
"It was definitely a good experience," Earle said.