Northtown clubs take awards at parade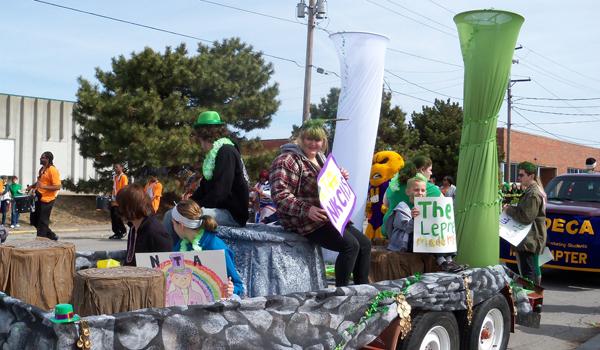 On Sat. March 19, the Snake Saturday Parade took float and even North Kansas City High School marched to the Irish Spirit, with the theme of Irish Rock.
Many of the school's groups participated in the parade, not only to show their spirit, but try for a chance to win many of the cash prizes.
"The parade was amazing! The sidewalk was overflowing with people, little kids kept urging the robots and some people encouraged the robots to 'punch the girl', "said senior Kelly Parman, who was the referee for the robots.
TSA received first place for the high school float competition and received $1000.
They put a lot of hard work into building the robots. Parman explained how tedious it was putting all the boxes together on the students who posed for the robots, but it was worth it.
"The boxes made it look totally real and robotic in the end," Parman said.
However, TSA was not the only group present during the parade.
Right behind NTA in the parade was DECA's float which placed second and received $800. To match the parade theme, they had their own rock band performing, a giant rock and a rocking chair.
"I loved it. This was the first year I was on a float instead of marching. It was laid back. We just had fun and weren't worried about placing," senior Reo Davis said.
The Northtown Theatre Association (NTA) rocked the Irish Rockers' float and won third place, receiving $600. They passed out candy, sang some punk songs, and were followed by Henry the Hornet.
"Being the hornet was fun at first but then I started realizing how hot it was and I started hyperventilating. It was hard because I had to keep up the spirit and high-fiving kids. The parade was fun though," senior Adam Zimmerman said.
NTA students put time in after school to make posters and put the float together.
"I sacrificed new shoes and a good pair of pants," junior Bennett Lowery said, commenting on his very hard work on making the rock for the center of the float.
The band did not have to worry about placing either, because they were not in competition, but also because they always have a great time performing in the parade.
"I like it because it gives us a chance to play our parade song, which is Poker Face," senior Ethan Kuba said.
The parade is just another performance that the band does their best on.
With so much hard work and spirit from the groups who participated in the Snake Saturday Parade, it is no wonder they had such astonishing results.