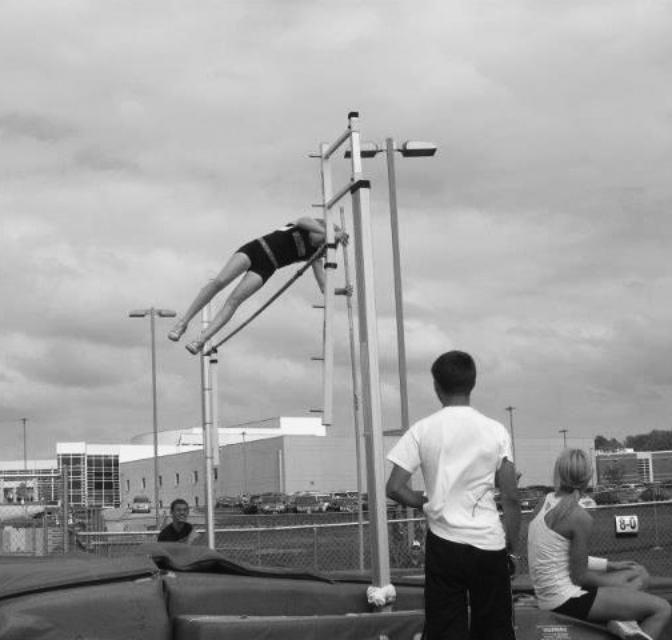 The 2012 girls' track season has been an exciting one. Especially for junior Jazmin McCoy, junior Hannah Pio, and senior Hannah DeVries.
These three athletes have broken impressive records this season.
Jazmin McCoy:
At the Oak Park invitational Jazmin McCoy broke the school record for the long jump. Jazmin jumped 19 feet and nine inches. The previous record was set last year at a distance of 19 feet and one inch.
Story continues below advertisement
Before the record was set last year, McCoy had been holding the long jump record at 18 feet and nine inches.
McCoy has now broken the long jump record twice.
"I knew I could do it. I was beginning to become discouraged but once I broke the record again I knew all my hard work had paid off," McCoy said.
McCoy was also a medal winner at the KU Relays, winning medals in both the long jump and 100 meter dash.
"It was not a surprise when Jazmin broke the record. She is an amazing athlete, so the track team expects it", track coach Chris McCullough said.
Hannah Pio:
On April 26 at the Park Hill invitational, Hannah Pio broke a school record for pole vaulting.
The previous record was made in 2004, and was set at a height of 9 feet. Pio beat this with a pole vault of nine feet and six inches.
"After I vaulted I watched the bar hoping it wouldn't fall. Once I realized the bar wasn't going to fall I got super excited," Pio said.
Pio has made breaking the record her ultimate goal for the past year and a half.
Hannah DeVries:
On Friday, April 20 at the KU Relays, Hannah DeVries broke the school record for the 3200 meter (two mile) run.
The previous record, of 11:09.8 had been standing for thirty years.
DeVries ran a record time of 11:09.67.
"At first I didn't think I broke the record. I was really surprised because I didn't realize my time was that close to the previous record," DeVries said.
This achievement did not come easily. DeVries "worked hard in the off season, and breaking the record so soon was a pleasant surprise," girls' track coach Chris McCullough said.
Overall the girls track season has been a very successful one.
After districts and sectionals the girls' track team will travel to Jefferson City on May 25 and 26, to compete at state.
"Girls' track has a lot of talented athletes. If we compete at the high level like I know we can, our girls should do very well at state" McCullough said.